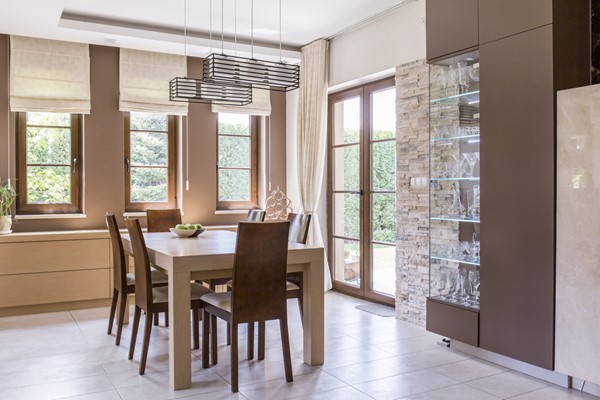 When moving into a new home, the first thing you want to do is make it your own. That means painting, upgrading fixtures, and the all-important window coverings. Instead of just looking for the most stylish option, take this chance to go with curtains, shades, blinds and screens will improve your bottom line. Most of the energy lost in your home goes through your walls, roof, and windows. You can enhance your walls and roof with well-made insulation, but unless you want to remove the windows entirely, your only option is thermal window coverings.
Now, typically, "thermal" is associated with keeping heat in, think "thermal underwear," but thermal window coverings are designed to block heat from both directions. That means they keep warm air inside in the winter and warm air outside in the summer. In this way, the blinds help control the temperature in your home year-round, reducing your heating and cooling energy costs.
The Four Top Options
While there are a wide variety of energy saving window coverings, and even energy saving windows themselves, the mostly break down into one of four categories.
Thermal Drapes and Curtains: These are the easiest to install of all the options. The installation is, in fact, the same as for non-thermal drapes or curtains. Just hang the rod and slide on the curtain. While not tight to the windows, curtains do work to reduce the amount of heat that travels through your windows. A secondary feature of most thermal drapes is that they create "blackout" conditions. Blocking as much light as heat, they produce more comfortable conditions for sleep or to stop the glare on your forty-two-inch television screen. There are a wide variety of blackout or thermal drapes on the market, but you will get the best results from those with an acrylic backing layer. The more layers of acrylic, the thicker and more effective the curtain will be at blocking both light and heat.
Thermal Interior Blinds: Mini-blinds, plantation blinds, Venetian blinds, there are so many from which to choose. Each type's fabrication is from of different materials leading to various levels of thermal protection. Slatted blinds are useful because they give you greater control over the amount of light let into a room. Depending on the curve of your slats, you may also be able to create an air buffer between the blinds and the window, changing how the cooler or warmer air flows into your room.
Cellular Shades: Halfway between curtains and blinds, these "honeycomb" shades trap air in hexagonal pockets between at least two layers. The more layers in the blinds, the more efficient they will be at stopping heat or cold from traveling through into your rooms. Unlike slat blinds, cellular shades create an air barrier in front of the window without needing to be adjusted for a particular angle.
Thermal Exterior Blinds: Exterior blinds work similarly to interior blinds. They are mounted above your windows and lower or raise through channels mounted to either side. Made of a variety of faux and natural materials including bamboo, wood, vinyl, steel and aluminum you can find an amazing style to match your home's needs. In addition to adding thermal protection to the outside of your windows, external blinds increase the shade and privacy of your home. Make certain you check with your homeowner's association first though. Some HOAs don't allow outdoor blinds since they change the exterior appearance of your home.
Want to block even more heat and light? Or just have more control? Look for reflective window films, awnings, roof overhangs, and screens to augment your interior window coverings. Getting ready to sell? Ask your real estate agent about the best choices to improve the value of your home.